Foreign Secretary answers questions on Afghanistan via Twitter
Foreign Secretary William Hague answered questions about the UK's policy towards Afghanistan via Twitter ahead of discussions on Afghanistan at the NATO Summit in Chicago on 20-21 May,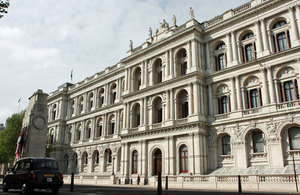 On 20-21 May leaders of NATO will meet in Chicago to map how NATO intends to complete the transition process by end-2014. The UK will be represented by the Prime Minister David Cameron and accompanied by the Foreign Secretary. Leaders will agree on how NATO will provide training, advice and assistance to the Afghan National Security Force (ANSF), and will demonstrate their commitment to sustaining the ANSF beyond 2014, as part of the Afghan government's and the broader international community's efforts.
In advance of the conference, the Foreign Secretary answered your questions on the UK's policy towards Afghanistan. Questions were submitted to the Foreign Secretary using the hashtag #askFS.
Replay the questions and answer below.
On 13 May, the Foreign Secretary welcomed the latest stage of transition in Afghanistan from international to Afghan security lead. Afghanistan President Karzai announced that Afghanistan's own forces will take lead responsibility for security in a further 122 areas across the country, including Nahr-e-Saraj district in Helmand Province where British forces operate.
Stay up to date with the NATO Conference on Twitter by using the hashtags #NATOSummit and #Chicago2012.
Published 17 May 2012