Foreign Secretary answers questions about UK/Pakistan on Twitter
Mr Hague has answered questions posted by audiences on Twitter during his first visit to Pakistan as Foreign Secretary.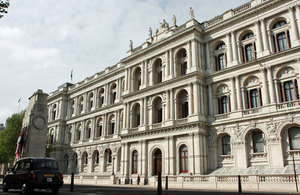 The Foreign Secretary was asked a series of questions about Afghanistan, UK visa services in Pakistan, bilateral trade ties and the recent terror attacks against the Ahmaddiya community in Pakistan.
Read what Mr Hague was asked and answered below:
Sorry to be late answering your questions - I have been flying from Karachi to Islamabad. I will answer twenty or so to cover a few subjects
@jasperhamill Q: Will the continuing Afghan war create 100s of potential Trafalgar Square bombers, in the mould of the Times Square bomber?
@jasperhamill Troops and civilians are working with Afghan govt to stop this happening in future, safeguarding security for whole region.
@yasermir Q: Dear Foreign Sec, what are we doing to curtail opium production in Afghanistan?
@yasermir UK supports Afghan Drug Control Strategy. Includes law enforcement action, capacity building, developing alternative livelihoods.
@yasermir Q: Dear Foreign Sec, how is fighting a war in Afghanistan protecting us here in the UK? Evidence suggests the opposite.
@yasermir If int'l forces left now, threat to region would rise; Taliban could again take control in some areas and al Qaeda would return.
@yasermir So our troops and civilians are working with the Govt of Afghanistan to stop that happening and maintain UK and regional security
@drawab Q: When is UK going to pull out of this War of Terror in Pakistan - we're sick of running other peoples war on our soil.
@drawab We are working with Pakistan to achieve our shared goals of lasting stability and security in both Pakistan and Afghanistan.
@mattbjones Q: Will @WilliamJHague be meeting with Federal Minister Shahbaz Bhatti re counter-extremism via interfaith harmony initiatives?
@mattbjones A: Interfaith initiatives are important. Far more that unites us than divides us. This was Jinnah's vision of Pakistan.
@mattbjones Sadly I wasn't able to meet with the Federal Minister during my visit to Pakistan this week.
@EhsunZ Q: What is the main motive of the war in Afghanistan? do you want to turn Pakistan into another Afghanistan?
@EhsunZ Afghanistan is govt's top foreign policy and national security priority.
@EhsunZ We will work with Pakistan to achieve our shared goals of stability and security in Afghanistan.
@mandvia Q: what being done for uk visa service in pak? It is incredibly slow, unreliable and in complete disarray.
@mandvia I am sorry if your experience was not a good one. Our visa service is an important part of close UK - Pakistan ties.
@mandvia We have worked hard to reduce waiting times. Most categories of visa are now being issued in around 3 - 4 weeks.
@williamcb Q: Can you do anything to improve the visa situation for genuine students from Pakistan who want to study in the UK?
@williamcb We have reduced waiting times significantly. 10,000 Pakistani students are in the UK - we welcome and value their contribution.
@buntms Q: what role will media, communications and access to impartial news play in Pakistans long-term stabilisation?
@buntms Enjoyed meeting the media during this visit - it is a thriving sector. Free and fair press seen as symbol of democratic values.
@buntms The Pakistani media is strong and flourishing. It will play a key role in the future stability and prosperity of the nation.
@imranshahryar Q Is development (economic/social/human) more effective than diplomacy in long-run in fragile states like Pakistan?
@imranshahryar This question deserves a longer debate rather than Twitter comment! I would say both play their part and are connected.
@belaar Q: Hon. Foreign Sec. Will you press Pakistani leaders to stop human rights abuses in Balochistan conducted by its armed forces? & @FREEOURDAD Q Sir UK invests & donates so much money to Pak. Are we not under a moral duty to demand respect for human rights rtn?
@FREEOURDAD @belaar Pakistani Government has made some progress on improving the human rights situation in the country
@FREEOURDAD @belaar Concerns remain, the UK continues to urge Pakistan to fully guarantee the fundamental rights of all Pakistani citizens
@jasperhamill What are you doing to defend BP?
@jasperhamill I spoke to the BBC on this on 13 June - US fully recognize that BP is a multinational company.
Zeeshan Mustafa Shafi Siddiqui Q via Facebook what steps will UK take to encourage trade and investment in Pakistan?
Zeeshan Mustafa Shafi Siddiqui The UK is the second biggest investor in Pakistan. £1.1bn trade between two countries in past year alone.
@dlgriffiths Q Has @WilliamJHague raised issue of discriminatory legislation in Pakistan like blasphemy laws and anti-Ahmadiyya provisions?
@morafi Q Please raise the issue of human rights violations and discriminatory legislation against #ahmadis
@Lutfislam Q Will @WilliamJHague push Pakistan Government to repeal anti-Ahmadi legislation and protect the freedom of citizens of Pakistan?
@AhmadiyyaTimes Q Please press Pak authorities to bring about real change, repeal anti-Ahmadiyya laws and treat all citizens equally
The recent EU-Pakistan Summit saw the EU and Pakistan agree to continue their efforts to fight violent extremism and sectarian violence.
The UK regularly lobbies the Government of Pakistan on the need to ensure blasphemy law is amended to prevent its abuse.
@MatthewDoye Q How does the ISI's continuing links with the Taleban, per the LSE's recent report, affect UK govt policy towards Pakistan?
@MatthewDoye This is an LSE report, which is independent of the British Government. Pakistan is an important ally and partner of the UK.
@MatthewDoye Pakistan and Afghanistan have a complex historical relationship including with the former Taliban government.
Johny Kaan via Facebook With Pakistan recently signing a civil nuclear deal with China, what is the UK's position with regards to the deal? web
UK is aware of reports suggesting that China and Pakistan may be considering renewed civil nuclear cooperation.
We have not seen details of any potential arrangement and urge all Nuclear Suppliers Group member states to abide by the relevant guidelines
@wasiq1 Q welcome to #karachi…don't you just love #pakistan..?
@wasiq1 Of course! I've been here before and always find Pakistan exhilarating!
That's it for now. Challenging to fit everything into 140 characters! Your questions have raised some interesting points to take away.
I have enjoyed the frank questions and the chance to respond. I hope to do this again soon. Thanks.
Published 24 June 2010