Foreign Secretary announces further UK support for human rights activists in Syria
Foreign Secretary William Hague visited the Bashabsheh refugee camp near the border with Syria and met victims of Assad's brutal onslaught.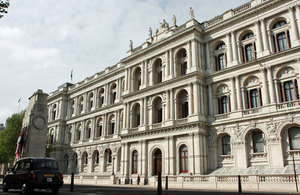 He heard how thousands have been forced to flee from their country, many left without homes after being bombarded by heavy weapons. The Foreign Secretary also listened to firsthand accounts of the appalling abuses being carried out in Syria.
The Foreign Secretary announced that the UK would train and equip twenty more Syrian human rights activists. This is in addition to the 47 human rights activists that the UK trained earlier this year and who, since April, have been working to document violations by the Syrian regime and pass evidence to the UN Human Right Council's Commission of Inquiry. They have already played an invaluable role in gathering evidence and were among the first to arrive at the tragic scene of the massacre in al-Houla.
Speaking afterwards the Foreign Secretary said:
"Today I have seen firsthand the terrible price being paid by the Syrian people and heard harrowing accounts of how they have suffered. It is more clear than ever that we must work to ensure that there is no impunity for those committing violations and abuses in Syria. They must understand that their actions have consequences, that acting on behalf of the regime does not absolve them of responsibility, and that we are committed to doing all that we can to hold them to account. As the convictions of Charles Taylor and Thomas Lubanga show, justice has a long memory and long reach.
"I have therefore announced that the UK will train a further twenty human rights activists to interview victims and record what is happening on the ground, so that the evidence can be used in future trials. I pay tribute to the commitment and dedication of those undertaking this vital work, which often places them at great personal risk."
Published 18 July 2012