Foreign Secretary announces assistance to the National Transitional Council in Libya
Foreign Secretary William Hague announced assistance to the National Transitional Council in Libya, and the expansion of the UK diplomatic team in Benghazi.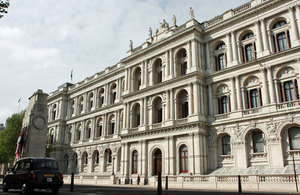 Speaking today the Foreign Secretary said:
"The United Kingdom is strongly committed to the effective implementation of the provisions of United Nations Security Council Resolution 1973. With the Libyan people still faced with continuing attacks by Qadhafi's forces, the need to protect civilians in Libya is our highest priority. UNSCR 1973 authorises member states to take all necessary measures to protect civilians and civilian populated areas under threat of attack from Qadhafi. The UK's substantial and early military contribution to the enforcement of UNSCR 1973 has helped saved the lives of thousands of civilians threatened by Qadhafi's murderous regime. As the scale of the humanitarian crisis has grown, so has the urgency of increasing our efforts to defend civilians against the attack from Qadhafi forces.
We regard the National Transitional Council as legitimate political interlocutors for the UK. We have in recent weeks decided to supply the NTC with non-lethal assistance in order to assist them in protecting civilians, including telecommunications equipment and protective body armour. We have stepped up our contribution to international efforts to relieve the humanitarian crisis in Libya, in particular in Misrata. And a UK diplomatic team led by Christopher Prentice has been liaising closely with the opposition in Benghazi.
The National Security Council has decided that we will now move quickly to expand the team already in Benghazi led by Christopher Prentice to include an additional military liaison advisory team.
This contingent will be drawn from experienced British military officers. These additional personnel will enable the UK to build on the work already being undertaken to support and advise the NTC on how to better protect civilians. In particular they will advise the NTC on how to improve their military organisational structures, communications and logistics. In doing so, we will coordinate closely with other international partners also assisting the NTC.
This deployment is fully within the terms of UNSCR 1973 both in respect of civilian protection and its provision expressly ruling out a foreign occupation force on Libyan soil. Consistent with our obligations under that Resolution, our officers will not be involved in training or arming the opposition's fighting forces. Nor will they be involved in the planning or execution of the NTC's military operations or in the provision of any other form of operational military advice."
Published 20 April 2011