Press release
Foreign Secretary announces appointment of UK Commonwealth Envoy
Boris Johnson announces Philip Parham as the UK's new Envoy to the Commonwealth.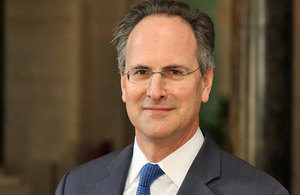 The Foreign Secretary has announced the appointment of Philip Parham CMG as the UK's Envoy to the Commonwealth.
Mr Parham, whose role begins on 18 June 2018, will lead the UK's effort to ensure delivery of the commitments made at the Commonwealth Heads of Government Meeting in London in April 2018. His appointment at the start of the UK's period as Chair-in-Office underscores the UK's sustained commitment to a Commonwealth which is a powerful force for global good now and for the long term.
The Foreign Secretary Boris Johnson said:
Crucial commitments were made at the Commonwealth Summit in April, on the scourge of marine plastics, on trade, on cyber security, and on the vital matter of girls' education. The appointment of Philip Parham as Envoy shows the UK's dedication to ensuring these commitments are met.
I look forward to working with him as his team works with the member states and the Commonwealth Secretariat to deliver a fairer, more prosperous, more sustainable, and more secure Commonwealth.
Background
Philip Parham CMG returns to the FCO after serving as British Ambassador to the United Arab Emirates since 2014. He has formerly served as British High Commissioner to Tanzania (2006 to 2009), and as Deputy Permanent Representative to the United Nations in New York (2009 to 2013). The UK assumed the role of Chair-in-Office at Commonwealth Heads of Government Meeting (CHOGM), and will hold the position until the next CHOGM in Rwanda in 2020.
Further information
Published 18 June 2018