Foreign Secretary announces appointment of new UK Special Envoy to the Sahel
Foreign Secretary William Hague last night announced the appointment of Stephen O'Brien MP as the UK's new Special Representative for the Sahel.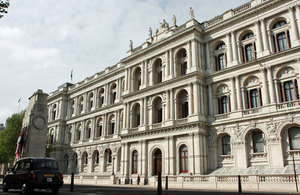 Speaking from New York the Foreign Secretary said:
"The UK is increasingly concerned about recent events in northern Mali. As the world's newest ungoverned space, it poses a threat to the prosperity, stability and development of Mali and a potential threat to our common security.
"Al Qaida in the Islamic Maghreb has taken advantage of recent instability and is growing both in ability and ambition. Combined with a food crisis and the displacement of hundreds of thousands of people this has created a toxic mix of development and security challenges that we cannot ignore.
"The UK, along with international partners, will continue to support the Government of National Unity in its efforts to return Mali to peaceful democratic rule, and to regain full control over Mali's sovereign territory.
"I am pleased to announce that Stephen O'Brien MP has been appointed as the UK's special representative for the Sahel. I believe Stephen will be able to inject new urgency and added coherence to the UK's efforts in the Sahel."
Published 27 September 2012