Foreign Secretary and Special Envoy Annan agree time running out for six-point plan
Foreign Secretary William Hague met Joint UN-Arab League Special Envoy Kofi Annan in London to discuss the crisis in Syria.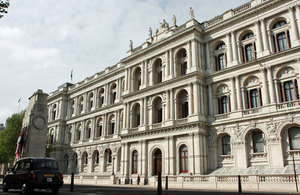 Speaking afterwards the Foreign Secretary said:
"I was delighted to meet Special Envoy Kofi Annan in London today to discuss the dire situation in Syria. We shared our deep concern at the escalation of violence across Syria which has become increasingly brutal and unchecked, and has caused the UN Mission in Syria to suspend operations. I reiterated my continuing support for Mr Annan's six-point plan. Addressing the UNSC yesterday, General Mood was right to highlight the regime's callous disregard for each of the six elements.
"Kofi Annan's plan remains the best hope to achieve an end to violence and a genuine, peaceful political transition. I made clear that the UK would continue to do all that it could to compel the regime to implement the plan in full, and encourage all parties to step back from confrontation. We agreed that it was critical that the international community come together and hold an urgent meeting to accelerate efforts to end the suffering of the Syrian people. I reiterated to Kofi Annan that the UK stood ready to pursue robust action at the United Nations in support of his work."
Published 21 June 2012