Press release
Foreign Secretary and Minister for Europe to attend Cypriot-led talks in Geneva
Boris Johnson and Sir Alan Duncan will attend Cyprus settlement talks to offer UK support for the ongoing negotiations.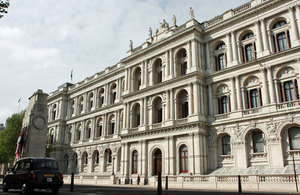 Their attendance at the UN-facilitated talks in Geneva on Thursday 12 January is part of the UK's ongoing support for the Cypriot-led settlement talks.
Ahead of the talks, the Foreign Secretary said:
I welcome the continued courage and commitment that has been shown by both sides. The talks in Geneva on the Cyprus settlement offer both sides a unique opportunity to find a solution. The UK fully supports the settlement process and is ready and willing to help in any way it can.

I hope that all those involved will approach the talks with a sense of openness and flexibility. I believe that if approached in this light, a solution is in reach to bring lasting peace to Cyprus.
Foreign Secretary Boris Johnson at UN Geneva
Notes to Editors
The current round of Cyprus settlement negotiations started in May 2015 and has been led by the leaders of the 2 communities, facilitated by the UN.
The UK is attending the Geneva talks from 12 January as a Guarantor Power (under the 1960 Treaty of Guarantee). As such we have a longstanding commitment – alongside our Guarantor Power partners, Greece and Turkey – to support the 2 communities as they work to find a successful solution to the Cyprus problem.
Further information
Published 12 January 2017