Foreign Secretary and HRH Prince Mohamed celebrate their countries' relationship
His Royal Highness Prince Mohamed, Minister of Foreign Affairs and Trade of Brunei Darussalam, received Foreign Secretary William Hague at the International Convention Centre today, where the 19th ASEAN-EU Ministerial Meeting is being held.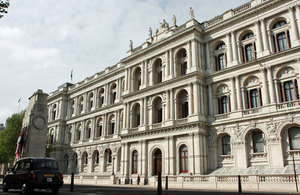 Foreign Secretary William Hague said:
"I congratulated my Brunei colleague on his skilful stewardship of EU/ASEAN relations over several years, culminating at today's conference. It was a particular pleasure to achieve all this in the capital of an old friend and long-standing ally of the United Kingdom.
"We looked forward to HM the Queen's Diamond Jubilee and I congratulated His Royal Highness on Brunei's decision to recognise Kosovo as an important contribution to stability in the Western Balkans. We discussed recent progress in Burma in particular among other foreign policy issues.
"The Foreign Minster and I agreed that UK/Brunei relations were flourishing. We looked forward to even closer cooperation between our two countries, including in the areas of trade and investment and education."
Published 27 April 2012