Foreign Secretary and Arab League Secretary General agree on need for "unambiguous support" for Kofi Annan's efforts
The Foreign Secretary William Hague met Arab League Secretary General Nabil al-Araby in London to discuss the crisis in Syria.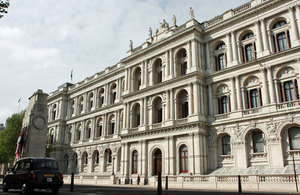 Speaking afterwards the Foreign Secretary said:
"It was a pleasure to welcome the Arab League Secretary General to the Foreign Office for detailed talks ahead of the Geneva Action Group meeting this weekend, which we will both attend.
"Dr al-Araby and I agreed that the permanent members of the UN Security Council and the international community as a whole must give unambiguous support to Joint Special Envoy Kofi Annan's efforts to establish an end to the violence in Syria and a political transition. I welcomed the important role that the Arab League is playing in these, and the Arab League-convened meeting of Syrian opposition members in Cairo on 2-3 July. We agreed on the importance of opposition groups adopting a unified vision for a future democratic Syria and working closely with Kofi Annan to achieve this. The UK fully supports this and stands ready to assist in any way that we can.
"We also agreed that it was critical to intensify political and economic pressure on the Syrian regime. I reiterated that the UK continues to consider robust action at the UN Security Council in support of Kofi Annan's six-point plan".
Published 27 June 2012