Foreign Secretary addresses regional issues in meeting with Israeli Foreign Minister
Foreign Secretary William Hague met Israeli Foreign Minister Avigdor Lieberman in New York on Monday.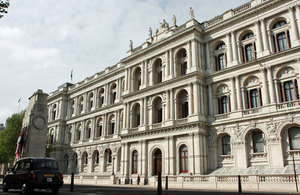 Speaking as a friend of Israel, the Foreign Secretary underlined the British position that the success of the direct talks between Israelis and Palestinians was in Israel's long-term strategic interests. The Foreign Secretary highlighted the depth of concern in the international community about the settlement moratorium and urged that it be extended.
The Foreign Secretary stressed to Foreign Minister Lieberman the importance the United Kingdom attaches to addressing Iran's nuclear programme. He highlighted the strong sense of unity shown at their meeting in New York by the Foreign Ministers of the E3+3 countries on the twin track approach to Iran's nuclear programme.
Published 27 September 2010