Foreign Office to screen human rights film 'This Prison Where I Live'
On 15 September, the FCO will show the film telling the story of the political prisoner Zarganar, a fierce critic of the regime in Burma and its most popular comedian. Find out how to get your place and listen to our new human rights podcast.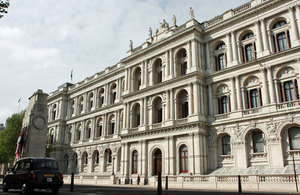 Members of the public are invited to attend the event, which will take place at the Foreign Office in King Charles Street, Westminster, London. Places will be first come first served. To attend, become a fan of the Foreign Office News on Burma Facebook page and view the event details and instructions. The film is directed by Rex Bloomstein, who will attend the event and will take part in a Q&A session after the screening.
Ahead of the event, the Foreign Office has launched our new human rights podcast series. This looks at a range of human rights issues, as well as focusing on the situation in specific countries. The first in this series focuses on Burma and freedom of expression, featuring an interview with Rex and excerpts from 'This Prison Where I Live'. Download and listen to the podcast.
Published 5 September 2011