Foreign Office supports International Day Against Homophobia and Transphobia
Foreign Office Minister Jeremy Browne records message of support for International Day against Homophobia and Transphobia (IDAHO) on 17 May.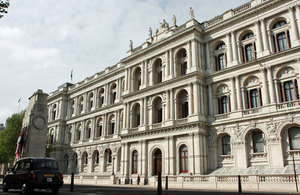 The Foreign Office works to promote human rights and prevent discrimination around the world, including on the basis of sexual orientation or gender identity.
The Foreign Office is hosting two guests blogs from London Pride and Gay Middle East, two NGOs that work to raise awareness of discrimination and the issues and difficulties affecting the lives of LGBT people around the world.
Foreign Office bloggers also marked the day, including Paul Arkwright (Netherlands), Christopher Wright (Philippines), Tom Burn (Japan), Greg Dorey (Hungary) and Frances Guy (Lebanon).
Published 16 May 2011