Foreign Office summons Syrian Ambassador on need for violence to stop
Foreign Office Permanent Under Secretary Simon Fraser summoned Syrian Ambassador Dr Sami Khiyami to the Foreign Office on 26 April.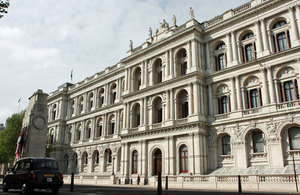 The Permanent Under Secretary underlined Britain's condemnation of the unacceptable use of force against protesters, particularly the deployment of the Syrian Army in Deraa and Douma and the high level of casualties over the weekend. He reiterated that the Syrian Government must immediately halt all attacks against protestors and restrain the army and security forces. He made clear that perpetrators of violence against civilians would be held to account and that it was vital that the Government of Syria responded to the legitimate demands of the Syrian people with reform and not repression. Syria was now at a fork in the road: if violence stopped immediately there was still an opportunity to follow the path of reform.
The summoning was carried out in coordination with a number of other major European capitals to reinforce the depth of international concern about Syria's recent brutal repression.
Published 27 April 2011