Foreign Office summons Libyan Ambassador
Permanent Under Secretary Simon Fraser, on the instructions of the Foreign Secretary, summoned the Libyan Ambassador to the UK H.E. Omar R Jelban this afternoon.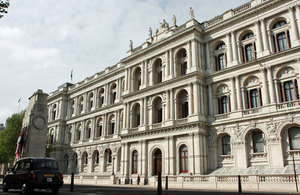 This was in order to underline personally to him the British Government's grave concerns about violence in Libya.
The Permanent Under Secretary drew the Ambassador's attention to the Foreign Secretary's words this morning about Libya and underlined Britain's clear condemnation of the unacceptable use of force against protesters in Libya. He told the Ambassador that Tripoli must immediately halt all attacks against protestors and restrain the army and security forces.
The Permanent Under Secretary also expressed concern for the safety of British Nationals in Libya at this time. He reminded the Libyan government of its responsibility to safeguard foreign nationals and diplomatic personnel in the country.
Published 21 February 2011