Foreign Office summon Syrian Ambassador
Syrian Ambassador to London Dr Sami Khiami was summoned to the Foreign Office over reports that Syrian Embassy staff are harassing and intimidating Syrians living in Britain.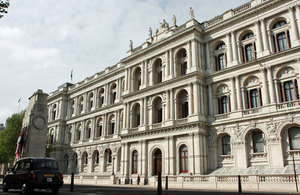 Speaking after the meeting, Minister for the Middle East Alistair Burt said:
"I am deeply concerned by continued reports suggesting harassment and intimidation by Syrian diplomats in the UK. In summoning the Syrian Ambassador today the UK made very clear that any such behaviour will not be tolerated and must immediately stop. We will take appropriate action on evidence that such action is happening and continue to encourage anyone who has experienced harassment or intimidation to report this to the Police. They continue to investigate allegations and we are working with them closely".
Yesterday the Minister for the Middle East met with members of the Syrian opposition in Paris.
Published 13 October 2011