Foreign Office spokesperson: The killing in Syria must stop
In response to the surge in violence over the last two days, the Foreign Office urges Syrian government to end violence against civilians.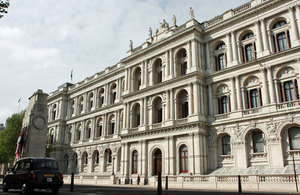 A Foreign Office Spokesperson said:
"We are shocked by reports of a significant surge in violence in the last two days in Syria resulting in possibly more than a hundred deaths. We urge the Syrian government to end immediately its brutal violence against civilians.
"The international community supports the Arab League's ongoing efforts to put pressure on the Syrian government to end the killing in Syria. Syria agreed on 19 December to the deployment of an Arab League monitoring mission having agreed on 2 November to the Arab League initiative, including a complete end to the violence. It is high time it matches its words with actions."
Published 21 December 2011