Foreign Office screens 'This Prison Where I Live'
This evening, the Foreign Office is showing the film telling the story of the political prisoner Zarganar, a fierce critic of the regime in Burma and its most popular comedian. You can follow the event live on Twitter via @FCOHumanRights.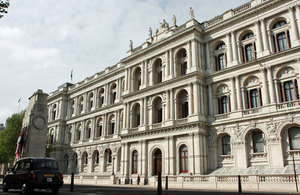 Over the last few weeks, the Foreign Office has been promoting the event via our Foreign Office News on Burma Facebook page. Tickets have now been allocated, but you can follow our tweets from the screening via @FCOHumanRights, using the hashtag #thisprison.
Ahead of the event, the Foreign Office has launched our new human rights podcast series. This looks at a range of human rights issues, as well as focusing on the situation in specific countries. The first in this series focuses on Burma and freedom of expression, featuring an interview with the film's Director Rex Bloomstein and excerpts from 'This Prison Where I Live'. Download the human rights podcast via our website or iTunes.
Published 15 September 2011