News story
Foreign Office release 500 intelligence related files from 1939-51
From World War to Cold War: the records of the Foreign Office Permanent Under-Secretary's Department, 1939-51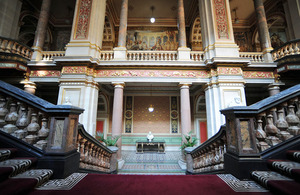 Today the Foreign & Commonwealth Office is releasing nearly 500 files from the Permanent Under-Secretary's Department (PUSD) dating from 1939-51.
Commenting on the files the Foreign Office chief historian Patrick Salmon said:
These papers give a unique insight into a secret world of intelligence and espionage, during both the Second World War and the early Cold War.
The PUSD did not come into being formally until 1949, but its name reflected the historical role of the Foreign Office Permanent Under-Secretary, who is also head of the diplomatic service, as the most important official point of contact in respect of the acquisition of secret foreign intelligence both before and after the department was established.
The first collection of these intelligence-related files was released in 2005, dating from the late 19th century to the outbreak of the Second World War. They can be found at the National Archives in class FO 1093.
Now a second tranche of PUSD records, comprising nearly 500 documents from September 1939 to 1951, is being added to that class, together with a small number of pre-1914 files that had not been discovered in 2005. The collection covers a very wide range of subjects, from wartime operations and code-breaking at Bletchley Park, through the reorganisation of the intelligence establishment after the end of hostilities, to dealing with Soviet espionage and hostile propaganda in the early days of the Cold War.
As with the first PUSD release in 2005, these papers lift the veil on the relationship between the Foreign Office and British intelligence establishment in the first half of the twentieth century, and are an invaluable resource for those interested in the 'missing dimension' of history. More information on the series can be found in a series of essays by Foreign Office historians
Further information
Find out more about the work of the FCO historians
Read more about the history of the UK government
Follow the Foreign Office on twitter @foreignoffice
Follow the Foreign Office on facebook and Google+
Subscribe to the announcements feed or email alerts to get our latest news and announcements
Published 23 May 2013