Foreign Office publishes strategy for prevention of torture
Foreign Office Minister Jeremy Browne has announced a new strategy for the prevention of torture, saying that international action against torture has long been a priority for the UK.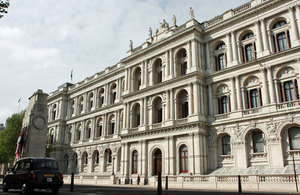 In a written statement to Parliament the Foreign Office Minister said:
International action against torture has long been a priority for the UK. The UK considers torture to be an abhorrent violation of human rights and human dignity, and consistently and unreservedly condemns the practice. Preventing torture and tackling impunity for those who torture are essential components of safeguarding Britain's security; and it is integral to fair legal systems and the rule of law. Torture prevention work also reinforces our consular work overseas when British nationals imprisoned abroad allege mistreatment.
The Strategy for the Prevention of Torture sets out FCO policy to 2015 and offers guidance to FCO posts on how they can contribute to preventing torture overseas. Our objective is to help international efforts to prevent torture globally by working to ensure:
Legal frameworks to prevent and prohibit torture are in place and are enforced;
States have the political will and capacity to prevent and prohibit torture;
Organisations on the ground have the expertise and training to prevent torture.
Published 27 October 2011