Foreign Office Minister's visit to Iraq concludes
Minister for the Middle East Alistair Burt became the first Foreign Office Minister to visit Iraq since the UK Coalition Government took office in May.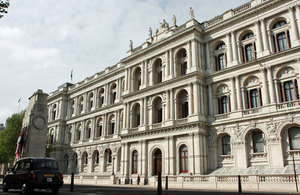 During his visit to Baghdad on 22 and 23 November, the Minister emphasised the UK's commitment to Iraq and welcomed the recent moves towards government formation in the country as a positive step towards greater stability and security for Iraq and Iraqis. He also emphasised the UK's continued commitment to a broad-based bilateral relationship with Iraq, building on the historical links between the two countries.
Speaking after his meeting with the Ministry of Foreign Affairs, the Minister said:
"We have a strong relationship with Iraq and want to develop this further across a wide range of issues. The UK has been at the forefront of Iraq's reconstruction. We now want to be its partner of choice and it develops further. We hope to co-operate closely in a range of areas, including strengthening economic and commercial ties, improving our defence relationship, and expanding cultural and educational relations."
In Baghdad he met senior politicians, including Minister of Foreign Affairs, HE Mr Hoshyar Zebari, Osama al-Nujaifi, the new Speaker at the Council of Representatives, and former Prime Minister Ibrahim Ja'afari. He also met incumbent deputy Prime Minister, Rafe al-Issawi, Deputy Defence Minister General Mohan and Thamir Ghadban, the Prime Minister's chief economic and energy adviser.
Over lunch on Tuesday with civil society representatives the Minister discussed Human Rights, Iraqi culture and security issues. He expressed his condolences to prominent members of the Iraqi Christian community after recent attacks in the country, and underlined the UK's support for Iraq's communities as they work together to tackle the threat of violent extremism.
Minister Burt also attended a business reception for Iraqi and UK companies on Tuesday evening, encouraging further commercial links between the two countries. He noted the mutual benefit of these, and emphasised that the UK was keen to be Iraq's partner of choice in its future commercial ventures.
Published 25 November 2010