Foreign Office Minister welcomes release of Belarusian political prisoners
Minister David Lidington has welcomed the release of ex-presidential candidate Andrei Sannikov and his campaign chief Dmitry Bondarenko.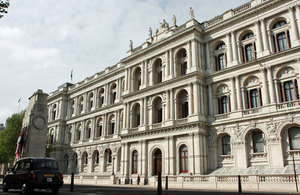 Speaking today, he said:
"I am greatly relieved that ex-presidential candidate, Andrei Sannikov has been freed together with his campaign chief, Dmitry Bondarenko. I have spoken with Irina Bogdanova, the sister of Andrei to convey our best wishes to Andrei and his family. The UK has consistently called for their release since their detention in December 2010. At the same time we remain deeply concerned about those political prisoners still behind bars, including political activist, Syarhei Kavalenka, who has only just ceased his three month-long hunger strike, Dmitry Dashkevich, Head of the Young Front, ex-presidential candidate Mikalay Statkevich and entrepreneur, Mikalay Awtukhovich.
"I sincerely hope that these releases mark the beginning of a resolution to the outstanding issue of political prisoners which has caused such serious difficulties in relations between the EU and Belarus. The EU and Belarus occupy the same neighbourhood and can only benefit from mutually strong relations based on shared European values. The UK and its EU partners have made clear that we remain willing to resume a dialogue with Belarus, but dialogue must be on the basis of these values".
Published 15 April 2012