News story
Foreign Office Minister welcomes launch of "Imagine if it were illegal for you to be you" campaign
Foreign Office Minister Jeremy Browne welcomed the launch of Kaleidoscope's campaign for World Pride 2012.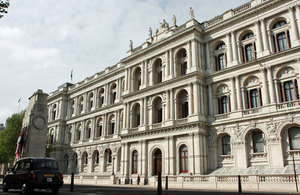 He said:
"I am delighted to welcome Kaleidoscope's 'Imagine if it were illegal for you to be you' campaign. This video brings home very vividly how it must feel to be singled out and abused just for being who you are. And the statistics are chilling. Many people will be shocked to hear that 78 countries around the world still criminalise homosexuality and that in five cases the maximum penalty is death.
"Over a million LGBT people will be in London this weekend to celebrate 'World Pride'. But it is especially gratifying that, thanks to campaigns like this, the many millions more around the world who do not have the freedom to express their sexuality are not being forgotten."
You can watch the video and find out more about the campaign on the Kaleidoscope website.
Published 6 July 2012