Foreign Office Minister welcomes International Criminal Court verdict of Thomas Lubanga
Minister for Africa Henry Bellingham has spoken following the guilty verdict announced by the International Criminal Court of war crimes by Thomas Lubanga.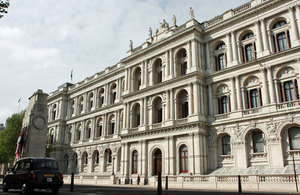 He said:
"I welcome the verdict that has been announced by the International Criminal Court in the trial of Thomas Lubanga. Mr Lubanga's conviction for conscripting and enlisting children under the age of 15, and using them to participate actively in hostilities, is wholly just. Today's verdict is testament to the ICC's commitment to hold to account those persons who force young children to become both the tools and victims of conflict. There has been widespread impunity for serious human rights abuses in DRC and I hope today's judgement will provide some form of comfort to the many victims of Lubanga's crimes, the majority of whom were young children. The British government will continue to give the ICC its full support as it takes forward its mandate to combat impunity. "
Thomas Lubanga faced charges of war crimes committed in the Ituri region of the Democratic Republic of Congo in 2002-3. He was the first person to be detained by the ICC, and his case was the first to proceed to trial.
Search the news archive
Published 14 March 2012