Foreign Office Minister welcomes implementation of reforms in Bahrain
Minister for the Middle East Alistair Burt has welcomed progress that the Bahraini government has made so far in implementing the Independent Commission of Inquiry report.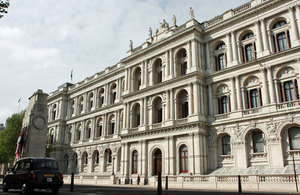 Speaking today the Minister for the Middle East said:
"I welcome the National Commission's report on implementing the recommendations of the Bahrain Independent Commission of Inquiry (BICI). As the Foreign Secretary said at the time the BICI report was published, the Commission's findings were deeply worrying and we have consistently encouraged full implementation of its recommendations. Reform and reconciliation are vitally important if Bahrain is to achieve sustainable stability.
"I am therefore pleased to see the progress the Government of Bahrain has made so far in responding to the report, in taking steps aimed at preventing future abuses of human rights. Introducing a police code of conduct, placing cameras in interview rooms and establishing a media oversight body are all important steps. It is also encouraging to see the establishment of a Special Investigations Unit with a mandate to bring to justice those who have perpetrated human rights abuses. We look forward to seeing the effect of these measures.
"But this is a long-term process and there is more to do. It remains critical that the Government of Bahrain continues its work to implement the Commission's recommendations, in particular ensuring that recent agreements are honoured, addressing issues of accountability and changing behaviour and culture. This should go hand in hand with an inclusive, constructive and realistic political dialogue between the government and political societies. The UK, as a friend and ally, will continue to give its support to these processes."
Published 22 March 2012