News story
Foreign Office Minister welcomes Fiji's newly elected Prime Minister
Hugo Swire welcomes Fiji's newly elected Prime Minister Bainimarama, following the first parliamentary elections in eight years.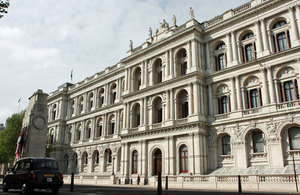 Fiji went to the polls on 17 September to elect fifty members of a new parliament and return the country to democratic rule for the first time since a military coup in 2006.
The Minister for Asia-Pacific, Rt Hon Hugo Swire MP said:
I warmly congratulate Prime Minister Bainimarama and the Fiji First party on winning an historic election. For the first time since 2006 the Fijian people have freely chosen their government and the UK looks forward to working with the newly elected Prime Minister in the coming months.

I welcome this significant first step on the road to a fully democratic Fiji and hope that this election and new parliament will be the beginning of further positive changes to come. We await the next crucial few weeks and hope to see Fiji fully embracing all aspects of democracy, such as more media freedom.

I offer my sincere thanks to all the members of the Multinational Observer Group (MOG) for their work both before and during the election. Their neutral presence and objective expertise was welcomed by the people of Fiji and contributed significantly to public confidence in the election process.
Further information
The election was held on 17 September 2014. It was overseen by a Multinational Observer Group (MOG) of over 90 representatives from 13 countries, including the UK and EU, Meg Munn MP represented the UK.
You can read the MOG's preliminary statement here.
Follow the Foreign Office on twitter @foreignoffice
Follow the Foreign Office on facebook and Google+
Published 22 September 2014