News story
Foreign Office Minister welcomes declaration on Mongolia's Nuclear-Weapon-Free Status
In New York today, the five Permanent Members of the UN Security Council (UK, US, France, Russia and China) and Mongolia adopted a declaration on Mongolia's Nuclear-Weapon-Free Status.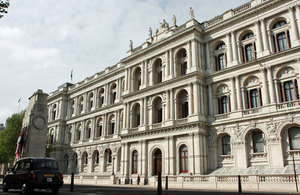 Speaking following the adoption, Foreign Office Minister Alistair Burt said:
"I welcome today's declaration by the P5 and by Mongolia as a further contribution to global and regional peace and security. I congratulate Mongolia on this achievement. By endorsing this declaration, the P5 agree to respect the nuclear weapon free status of Mongolia and not to contribute to any act that would violate it.
"This marks a further milestone in the UK's commitment to support nuclear non-proliferation and disarmament, and in particular fulfilling the 2010 Non Proliferation Treaty Action Plan. The UK believes that it is important to establish greater trust between Nuclear and Non-Nuclear Weapon States and is actively contributing to efforts to reduce the number of nuclear weapons worldwide."
Published 17 September 2012