Foreign Office Minister welcomes Amnesty International report on the death penalty
Foreign Office Minister Jeremy Browne has welcomed the report from Amnesty International which sets out the status of the death penalty worldwide.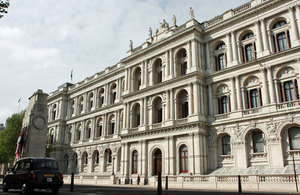 Speaking today, Foreign Office Minister of State Jeremy Browne said:
"I welcome the publication of Amnesty International's annual report on Death Sentences and Executions in 2010. Amnesty International's report provides a comprehensive overview of the status of the death penalty worldwide, which will be a useful resource for our continued work on the death penalty. It is encouraging to read that a total of 31 countries have abolished the death penalty in law or in practice during the last 10 years, reinforcing the trend towards global abolition. However, six other countries and territories carried out executions after a moratorium.
"It is the longstanding policy of the UK to oppose the death penalty in all circumstances as a matter of principle. We work closely with Amnesty International and other NGOs, as valued members of the FCO's Expert Group on the Death Penalty, which I chair, to make progress towards our goal of global abolition. The UK Government launched its Strategy for Global Abolition of the Death Penalty in October 2010, which included five priority countries and regions: China, Iran, Belarus, the Caribbean, and the US. There is still much progress to be made, but I am delighted that the State of Illinois has recently abolished the death penalty. We urge other states and nations to follow their example.''
Published 28 March 2011