Foreign Office Minister visits Yemen
Minister for the Middle East Alistair Burt said the UK will remain a close development and political partner to Yemen when he visited the country on 5 March.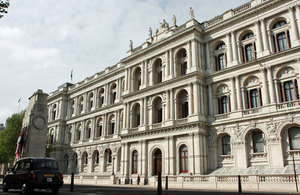 The visit came soon after the successful elections and met a wide range of interlocutors from across the political spectrum and civil society. This included a meeting with President Hadi, whom he congratulated on his election and crucial role in the first phase of transition.
He stressed the UK's commitment to enhance its support to Yemen's ongoing transition and to the Yemeni people, confirming that the UK will remain a close development and political partner to Yemen. Minister Burt acknowledged the broad international support that had brought Yemen to this point, and welcomed the level of international unity in efforts to find a solution to the crisis in Yemen.
In his meetings with the Foreign Minister, and the Ministers of Finance, Planning and International Cooperation, and Industry, the Foreign Office Minister discussed UK's development assistance to Yemen and ways to enhance co-operation. He pledged that the UK would continue to play a leading role as co-chair of the Friends of Yemen and as a member of the G10 group.
The Minister for the Middle East also had the chance to meet youth leaders, civil society activists and the local media. He signalled that that a successful national dialogue in Yemen needs to include all political forces, and that it must also address all key national concerns to solve Yemen's crisis.
Published 5 March 2012