Press release
Foreign Office Minister visits the U.S.
Hugo Swire travels to Houston and Washington D.C.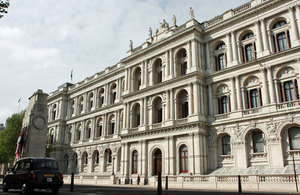 Minister for the Americas, Hugo Swire will visit Texas this week to promote British business and innovation in the state. In Houston he will meet Texas-based energy companies; visit NASA Johnson Space Center to promote UK-US science collaboration and record a message for British astronaut Tim Peake; and meet the Super Bowl LI Host Committee ahead of NFL franchise games this October in London. In Austin he will meet Texas Governor Greg Abbott, as well as leaders from Austin's thriving tech and healthcare industry.
Mr Swire will then travel to Washington D.C. to discuss East Asian security issues and deliver a keynote speech on security in the Asia region at the Centre for Strategic and International Studies. He will meet with US Administration colleagues, including Danny Russel - Assistant Secretary of State for East Asian and Pacific Affairs, academics, students at Johns Hopkins University, and political commentators.
During his speech, the Minister will emphasise the UK's strong support for preserving peace and security in East Asia.
Speaking ahead of the trip, Mr Swire said:
The US and UK's special relationship remains vitally important, allowing us to come together on issues of international security and cooperation. With continuing North Korean aggression, and growing tension in the South China Sea, my visit to Washington offers a good opportunity to talk to US colleagues about important East Asian security affairs.

The United Kingdom will continue to condemn any action that threatens peace and security in East Asia. We are committed to using the influence and authority of international fora to achieve stability.
Further information
Published 14 April 2016