Foreign Office Minister visits rural China
Foreign Office Minister Jeremy Browne visited Zhongfeng Township in Sichuan Province to broaden the UK's work with regions outside of the country's central cities.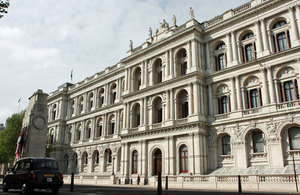 Rural society currently comprises more than half of China's population, and Sichuan in particular is one of the main areas for agricultural food production. It is therefore at the heart of the Chinese economy and has a core role to play in its development.
The Foreign Office Minister was taken on a tour of the village to learn about the daily lives of some of the thirteen thousand people living there and how local political systems complement those running nationally.
He said:
"It is important for Britain to engage with and understand the 'other China', outside major cities such as Beijing and Shanghai. Half of China's population - more people than the entire population of the European Union - live in the countryside.
"China is a partner for growth for the UK and we need to forge closer relationships with the whole country. That includes knowing more about how rural Chinese society works and making sure that our engagement with China is well-informed."
Before visiting Zhongfeng, the Minister went to the Bifengxia Yaan Panda Base near Chengu to bid farewell to Tian Tian and Yang Guang: the two eight year old giant pandas shortly to depart China on loan to Edinburgh Zoo.
The agreement was originally signed in January 2011, during Vice Premier Li Keqiang's visit to the UK. They will be the first giant pandas to reside in the UK for seventeen years and will be under the custodianship of Royal Zoological Society of Scotland (RZSS)
The Minister added:
"The Chinese pandas coming to Britain are a symbol of the increased ties and greater mutual understanding between our two countries.
"Only nine countries outside China currently hold giant pandas and within Europe they can only currently be seen in Madrid, Vienna and Berlin. So this is a big vote of confidence in the expertise of the UK in researching and caring for this endangered species."
Published 17 November 2011