Press release
Foreign Office Minister visits New Zealand
Prosperity and security are top of the agenda for Hugo Swire, who will travel to Auckland, Wellington and Christchurch in an official visit to New Zealand.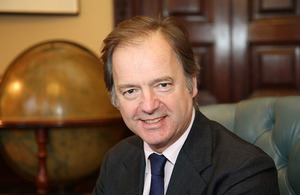 Mr Swire will hold talks with New Zealand's Foreign Minister Murray McCully, Defence Minister Gerry Brownlee and Climate Change and State Services Minister Paula Bennett. He will also address business leaders and discuss the UK's expertise in infrastructure, innovation and 'Smart Cities' in a roundtable with the regional 'Metro Mayors'
While in Wellington, the Minister will lay a wreath at Pukeahu National War Memorial Park to commemorate all those New Zealanders who lost their lives in World War One and visit the site of the proposed UK memorial there. He will have a tour of WETA workshops – the makers of Lord of the Rings and The Hobbit – with Sir Richard Taylor and hear about WETA's design and engineering plans for the UK memorial. He will also visit the 'Great War Exhibition', designed by Sir Peter Jackson.
Mr Swire will also attend the opening night of the Royal Edinburgh Military Tattoo, which is performing in New Zealand for the second time.
Minister of State for Asia-Pacific, Hugo Swire, said:
I am delighted to be visiting New Zealand. The UK and New Zealand are like-minded friends, key Commonwealth partners and global leaders, who continue to play a central role on the issues that matter. With New Zealand on the UN Security Council, we will work even more closely to promote global peace and stability.
In a troubled world our shared history and values – from democracy, transparency and accountability to rule of law and human rights – are more important than ever and set the standard that others seek to reach. Our personal links, whether in sport, education or business, pave the way for a relationship that has rarely been stronger.
Britain is open for business, and the natural place for New Zealanders to visit, study, invest and trade. Performing in New Zealand for the second time, the Royal Edinburgh Military Tattoo is a proud example of a world class cultural export hailing from the UK, which I hope will encourage even more New Zealanders to come and explore what Britain has to offer. There are now more routes for New Zealanders into the UK than ever before, and they can expect a very warm welcome.
The Minister will also visit Christchurch and meet with Mayor Lianne Dalziel to hear about reconstruction plans as they approach the five-year anniversary of the earthquake.
Further information
Follow Foreign Office Minister Hugo Swire on twitter @HugoSwire
Follow the Foreign Office on twitter @foreignoffice
Follow the Foreign Office on facebook and Google+
Published 17 February 2016