Foreign Office Minister visits India
Foreign Office Minister Jeremy Browne will visit Bangalore, Chennai, Hyderabad and Delhi from 13-16 February.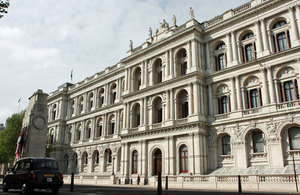 This is the Foreign Office Minister's second visit to India since taking office in May 2010. His visit underlines the UK's on-going commitment to build a stronger, wider, and deeper partnership with India. He will visit three of the South's major cities for the first time as a minister.
As well as meeting leading figures from business and the media, the minister will meet the Chief Ministers of Tamil Nadu and Andhra Pradesh to reinforce the UK's commitment to widen and deepen engagement across India in key areas such as education, research, energy, trade and investment.
In Bangalore Minister Browne will visit Infosys, one of the earliest and largest investors from the IT sector in the UK. In Chennai he will deliver a speech titled "The UK-India Economic Partnership" at an event hosted by the Madras Chamber of Commerce and Industry. In Hyderabad he will deliver a speech titled "Politics and Governance: The UK Experience" at the Administrative Staff College of India.
As 2012 is the year of the London Olympics Minister Browne will celebrate with two of India's great sporting champions - Mr. Prakash Padukone in Bangalore and Mr. Viren Rasquinha in Chennai - joining them for sporting fixtures involving local children.
The minister will open the Joint India-UK Conference on CBRN Disaster Management and Security in New Delhi. This conference will bring together leading Indian and British experts from industry and government. Mr Browne will also call on Indian Ministers at the Ministry of External Affairs to discuss current bilateral and international priorities.
Speaking ahead of the visit, the Foreign Office Minister said:
"2012 is an important year for the UK-India relationship. Her Majesty The Queen's Diamond Jubilee and the London Olympics offer a once-in-a-generation chance to promote the UK as one of the best places to visit, live, work, study, invest and do business. I am delighted to be returning to India and visiting three of the great cities of the South - all locations where the UK will be investing more effort and attention in coming years. This shows the importance the UK attributes to these dynamic growth regions. My visit symbolises the growing partnership between our two nations - a partnership founded on mutual respect, common interest, and ambition for the future."
Published 12 February 2012