Press release
Foreign Office Minister visits Bahrain
Hugh Robertson underlines UK support for reform programme in Bahrain and importance of work to improve human rights.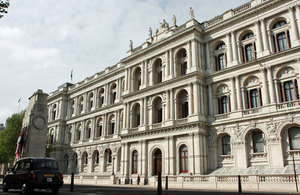 Foreign Office Minister for the Middle East, Hugh Robertson, yesterday visited Bahrain for the third meeting of the UK-Bahrain Joint Working Group. Commenting at the end of his visit, Mr Robertson said:
It was a pleasure to make my first visit to Bahrain as Minister for the Middle East. I was struck by the warmth of the long-standing friendship between our two countries. During a productive meeting of the Joint Working Group we agreed that the UK would continue to provide support to Bahrain's reform programme, with particular focus on strengthening human rights and the rule of law – where there is still much to be done. I was pleased to see that UK expertise is helping to make a real difference, particularly on the creation of a Police Ombudsman and a new Independent Prisoners and Detainees Commission.
Further information
Mr Robertson met His Royal Highness Crown Prince Sheikh Salman bin Hamad Al Khalifa, His Excellency Sheikh Khalid bin Ahmed Al Khalifa the Minister of Foreign Affairs, His Excellency Sheikh Rashid bin Abdullah Al Khalifa the Minister of Interior and His Excellency Kamal bin Ahmed Mohamed the Minister for Transportation and Acting CEO of the Bahrain Economic Development Board. He also met a range of representatives from parliament, political societies, as well as local civil society and human rights activists.

The UK-Bahrain Joint Working Group was established in March 2013. It is a forum for discussing issues of mutual interest across the bilateral relationship, including regional and trade issues, with a focus on reform and human rights.
Follow Foreign Office Minister Hugh Robertson on twitter @HughRobertsonMP
Follow the Foreign Office on twitter @foreignoffice
Follow the Foreign Office on facebook and Google+
Published 5 June 2014