Foreign Office Minister visits Australia and Malaysia for trade and Commonwealth talks
Minister of State, Lord Howell concludes his visit to the Asia Pacific region with meetings in Sydney and Kuala Lumpur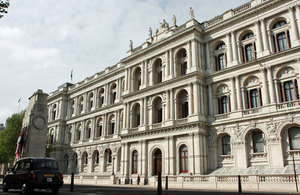 In a trade focused visit to Sydney, Lord Howell met with senior representatives from a broad section of Australian and British businesses to gain a better understanding of the UK's economic relationship with Australia and to deliver the message that the UK was open for business. As part of his programme, Lord Howell hosted a roundtable with the Business Council of Australia and met the Australian British Chamber of Commerce Board, reinforcing the UK's commitment to increase trade with Australia.
Australia is a key trading partner with the UK and accounts for around £6 billion worth of UK exports of goods and services each year. The UK is the largest investor in Australia and is the second largest foreign direct investor, after the United States.
The Minister will finish his visit with meetings in Malaysia on the future of the Commonwealth. He will call on former Malaysian Prime Minister Tun Abdullah Ahmad Badawi who was recently elected chair of the Eminent Persons Group (EPG) - the body charged with reviewing and reforming the work of the Commonwealth.
Speaking ahead of the visit, the Minister said: "Malaysia will make an important contribution to the Commonwealth of the future and I will be using part of my visit to learn what the decision-makers and opinion-formers consider necessary to develop and invigorate the Commonwealth network."
As part of his trip the Minister also attended the Pacific Islands Forum in Vanuatu, where economic development and the needs of the region's most vulnerable were high on the agenda. Lord Howell also travelled to New Zealand, where he had talks with New Zealand Prime Minister, John Key and Foreign Minister, Murray McCully on trade and the Commonwealth.
Published 9 August 2010