Foreign Office Minister speaks in support of victims of torture
To mark International Day in Support of Victims of Torture, FCO Minister for human rights policy Jeremy Browne gave a statement.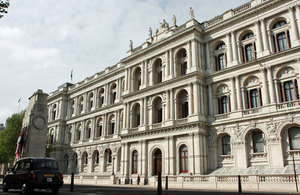 The Minister said:
"Distressing allegations of torture continue to come to light in countries around the world. In recent months in particular, we have seen torture used as a tool to victimise and silence brave citizens who have spoken out against repressive regimes. We utterly condemn torture and call on governments around the world to eradicate this abhorrent practice. Governments should also investigate all allegations of torture or cruel, inhumane or degrading treatment promptly and transparently, so that victims and their families can have justice.
"While we have condemned numerous horrific incidents that have come to public attention, we must also remember those victims who are not known. Torture happens in secret and the victims we hear about represent only a small proportion of those who have suffered.
"I urge states that have not yet done so to sign, ratify and effectively implement the UN Convention Against Torture and its Optional Protocol. By taking this step, they will be making a clear statement about their commitment to end torture and to respect human rights."
Published 25 June 2011