Foreign Office Minister speaks at the opening of Jamaica House
Minister for Africa Henry Bellingham speaks on the extremely strong bilateral relationship between Jamaica and the UK at the opening of Jamaica House.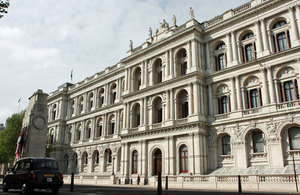 After his speech at the Opening of Jamaican House, Mr Bellingham said:
"It was a great honour to speak at the opening of Jamaica House and to see a corner of London transformed into a small piece of Jamaica. I would encourage as many people as possible to take advantage of this unique opportunity to experience the sights, sounds and tastes of Jamaica in the UK.
"I would also like to send my congratulations to the Government of Jamaica and to the Jamaican people on 50 years of Independence, which they will be celebrating on Monday. I'm delighted that the anniversary falls during the Olympic Games, making this a double celebration and a very special moment for the UK-Jamaica relationship.
"Jamaica and the UK already enjoy an extremely strong bilateral relationship - the Independence Celebrations at Jamaica House give us the opportunity to further develop our cultural, trade and investment ties."
Jamaica House will run from 3-12 August at the O2 Arena. It is a home away from home for Jamaican athletes and fans, as well as offering Londoners an insight into Jamaican history, culture, and way of life. It will offer a variety of Jamaican cultural events including food demonstrations, fashion shows and music shows, as well as live screenings of Olympic events. Visitors will also be able to learn about trade and investment opportunities in Jamaica, through various events hosted by JAMPRO (Jamaica's investment and export promotion agency).
Jamaica will celebrate 50 years of independence on 6 August, the first country in the Commonwealth Caribbean to reach this momentous landmark.
Published 3 August 2012