Foreign Office Minister on Iran
Foreign Office Minister Alistair Burt's statement on Iran's nuclear power plant.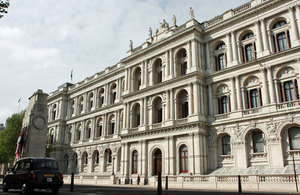 Foreign Office Minister Alistair Burt said today:
"The loading of Russian fuel into the Bushehr nuclear power reactor demonstrates that Iran can have the benefits of nuclear power. We have always respected Iran's right to develop an exclusively civil nuclear power programme.
The problem is Iran's continued refusal to satisfy the IAEA and international community that its work on uranium enrichment and heavy water projects are exclusively peaceful.
UN sanctions have never sought to prevent the construction and operation of the Bushehr power reactor. But until Iran suspends its proliferation sensitive nuclear activities and responds in full to IAEA concerns about potential military dimensions it will be in contravention of six UNSC Resolutions and have to bear the economic cost of sanctions.
We continue to urge Iran to take advantage of the open door to hold talks with the E3+3 on all aspects of its nuclear programme. International anxiety about Iran's proliferation-sensitive nuclear activities can only be ended by Iran complying with the relevant UN Security Council resolutions and satisfying the international community that these activities are for peaceful purposes."
Published 21 August 2010