News story
Foreign Office Minister met villagers from the small West Bank village of Nabi Saleh
Foreign Office Minister for the Middle East Alistair Burt MP visited Nabi Saleh at the end of his visit to Israel and the Occupied Palestinian territories.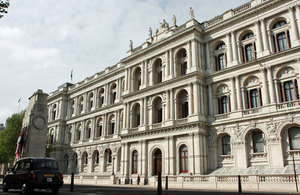 Minister Burt met villagers from the small West Bank village of Nabi Saleh, north West of Ramallah. Since December 2009, the village has held a demonstration every Friday to protest against the impact of the nearby settlement of Hallamish on village life. Minister Burt met Nariman Tamimi, whose husband Basem Tamimi was arrested earlier this year and charged with offences related to his involvement in the weekly demonstrations. Basem has been declared a Human Rights Defender by the EU.
The Minister also visited the village spring which has become a symbol of troubles caused by the ongoing occupation. In recent month, settlers from Hallamish have started to use the spring, which is located on private Palestinian land, outside the boundaries of the settlement. When the settlers are using the spring, the owners are prevented from accessing it.
Speaking after the visit, the Minister said, "The British government supports the Palestinians legitimate right to protest non violently against the Israeli occupation. While we fully understand Israel's security concerns, we urge the Israeli Security Forces to exercise restraint when policing peaceful demonstrations to prevent against injury and loss of life. We support the decision by the EU to declare Basem and Naji Tamimi as Human Rights Defenders. My meeting today also reinforced our concerns about the conduct of the Israeli military courts where 96% of all cases result in plea bargains, and particularly the treatment of children."
Search the news archive
Published 1 July 2011