Foreign Office Minister meets with representatives of the Cherokee Nation
Foreign Office Minister for North America Alistair Burt today met with a delegation of twelve tribal representatives from the Cherokee Nation.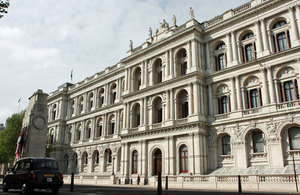 Tribal Councillor Jack Baker presented Mr Burt with a traditional blanket, decorated with the Cherokee seal. A member of the delegation wore traditional dress and sang a Cherokee song in their native language.
Mr Burt reflected on the history of the UK's relationship with the Cherokee Nation. They also discussed indigenous rights and forging new links through tourism and business.
The Cherokee Nation have undertaken this visit to the UK to mark the 250th anniversary of their 'Emissaries of Peace' journey from Oklahoma to London in 1762, where they signed a treaty with King George III, becoming one of the first North American tribes to sign a treaty with the UK.
Published 19 June 2012