Foreign Office Minister meets Syrian Kurdish opposition leader
Foreign Office Minister Alistair Burt met the Syrian Kurdish political leader Dr Abdul Hakeem Bashar on 18 January.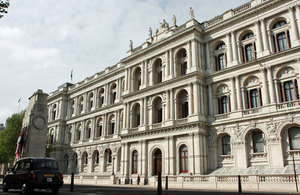 Speaking after the meeting the Foreign Office Minister said:
"I was delighted to meet the Head of the Syrian Kurdish National Council, Dr Abdul Hakeem Bashar today, as part of the UK's intensive engagement with a wide range of Syrian oppositionists.
I reiterated the clear and growing need for the Syrian opposition to come together to help define a shared vision for a future Syria where the political system is inclusive, representative and adheres to international human rights standards. This will be a crucial part of the transition to a free and democratic Syria which must also be underpinned by securing the rights of minorities, including for the Kurds as the largest minority group."
EU Foreign Ministers will meet in Europe next week to discuss further sanctions on the Syrian regime, in response to continuing repression.
Published 18 January 2012