Foreign Office Minister meets Somali community at Finsbury Park mosque
Minister for Africa Henry Bellingham visited Finsbury Park mosque in North London to meet members of the Somali diaspora on 9 February.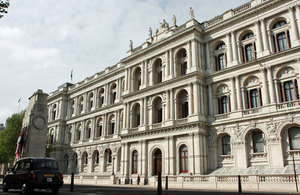 In a two hour meeting chaired by local MP Mr Jeremy Corbyn MP, the Minister and the representatives of the local Somali community discussed the purpose of London Conference on Somalia on 23 February, and how to make the most of the opportunities it represents. The debate was wide ranging, covering political issues around the transition, security and humanitarian issues, and domestic concerns.
Following the visit, Mr Bellingham said: "We value the huge contribution made by the Somali diaspora in supporting the development of the homeland. It is telling that diaspora communities from around the world remit more money back home than the international community gives in aid. Those who migrated often left families behind, and have continued to work tirelessly in a voluntary capacity to improve the lives of their relatives back home. We are keen to work with the them to help inform UK policy making and shape a better future for Somalia."
The Somali diaspora in Finsbury Park are at the heart of the local community. Many are fairly recently arrived as refugees from conflict and drought, and have since built up small businesses that support the local economy. Following the closure of the Finsbury Park mosque in 2003 when Abu Hamza was the Imam, the Somali community played an integral role in transforming it into a thriving place of worship and community centre that plays a constructive and positive role. A new Board of Trustees was appointed, which included a Somali community leader and worked with the local authority, the police, community and MPs to reopen the mosque, with new imams and a new ethos.
Mr Mohammed Kozbar, the Chairman of Finsbury Park Mosque commented:
"This meeting was very important and not just for the local Somali community. Somalia is a global issue about which all the Muslims who worship here are concerned. We are keen to support the Governments effort to help find a solution."
Published 9 February 2012