News story
Foreign Office Minister meets Singaporean Parliamentary Secretary for Foreign Affairs
Foreign Office Minister Jeremy Browne today met Sam Tan, Singaporean Parliamentary Secretary for Foreign Affairs, who is leading the Singapore Delegation to the Paralympics.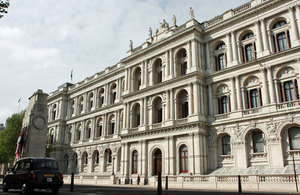 Speaking after the meetingn the Foreign Office Minister said:
"It is a pleasure to welcome Mr Tan to the UK during our second Paralympics Games. I am sure he will enjoy his time in the UK following the progress of Singapore's eight representatives over the next two weeks. I wish them all the best of luck.
"Today we discussed the wide range of interests that the UK and Singapore share, including on the economy and other international issues. We both expressed our support for the Convention on the Rights of Disabled Persons, which we feel is of particular significance this week.
"I hope that this year brings further opportunities for the UK and Singapore to work together, and Mr Tan said that both he and the people of Singapore are looking forward to the visit of the Duke and Duchess of Cambridge this September, in honour of the Queen's Diamond Jubilee."
Published 3 September 2012