Foreign Office Minister meets North Korean activist Shin Dong-hyuk
North Korean activist Shin Dong-hyuk met with Foreign Office Minister Jeremy Browne to highlight ongoing concerns about human rights in North Korea, a country of concern for the UK.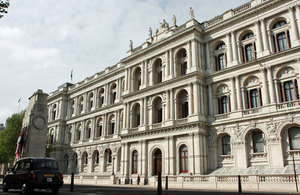 They discussed their mutual desire to see improvements in the country, especially regarding the conditions that exist in prison camps, and Mr Browne emphasised the Government's determination to keep raising concerns at both bilateral and multilateral levels.
The UK Embassy in Pyongyang supports small-scale projects to improve the rights of children, women and the disabled. Our Embassy in Seoul also funds English language training for some North Korean defectors to help them adjust to the modern world.
Speaking after the meeting the Foreign Office Minister said:
"It has been inspiring to meet with Shin Dong-hyuk, and to hear about his experiences of 23 years in a political prison camp: a timescale most of us find impossible to imagine.
"This is a real triumph of hope over adversity. North Korea has an appalling human rights record and the secretive nature of the regime in North Korea often makes it difficult to verify events within the country with any certainty. However, testimonies such as Mr Shin's give us an insight that we would not otherwise get. I hope that through his words to Parliament and through his many international meetings, Mr Shin will be able to keep raising awareness of human rights in North Korea.
"North Korea remains a country of concern for the UK Government. We use every opportunity to raise our concerns with the North Korean Government directly, both with their Embassy in London and through our Embassy in Pyongyang."
Born in 1982 in a North Korean labour camp, Shin Dong-hyuk went on to spend twenty-three years suffering torture, forced labour and deprivation before finally escaping in 2005. Since then he has resettled in South Korea, and works permanently on raising awareness of the atrocities he encountered through the work of human rights groups.
He has been visiting the UK at the request of the All Party Parliamentary Group (APPG) on North Korea, and on Tuesday addressed MPs in the Houses of Parliament.
Published 28 October 2011