Foreign Office Minister meets Namibian paralympic delegation
Foreign Office Minister Mark Simmonds welcomed Namibia's Deputy Minister of Youth, National Service, Sport and Culture and members of Namibia's Paralympic Delegation to London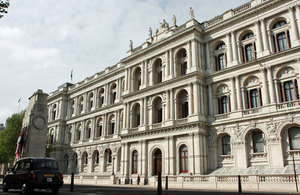 The Minister and athletes were given a tour of the GREAT Pavilion at the Foreign Office, followed by a discussion which focused on sport in Namibia.
Speaking after the meeting, Mr Simmonds commented:
"I was delighted to welcome Hon Pohamba Shifeta and his athletes to London and the Paralympics Games. Namibians are passionate about their sport and were excited about the medal chances for their athletes competing in London. Before the team departed I am told that President Pohamba urged his athletes to make the country proud. With this in mind I am delighted that the team secured Namibia's first ever Paralympic gold medal in yesterday evening's women's 200m.
The passion, dedication and accomplishments of all Paralympians this summer will, I am sure, inspire the next generation of young people from around the world to work hard and achieve the best they possibly can in their chosen fields."
Published 6 September 2012