Foreign Office Minister meets Misrata eyewitnesses
Minister for the Middle East and North Africa, Alistair Burt, today heard firsthand accounts of the situation in Misrata during a private meeting with eyewitnesses from the besieged city.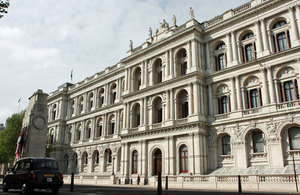 The Minister spoke on the telephone with people in Misrata, as well as meeting with some who had recently returned, alongside representatives from human rights organisations including the Red Cross, Human Rights Watch and Lawyers for Justice in Libya.
The meeting was held under Chatham House rules to ensure that those speaking out were not subsequently targeted.
Speaking after the meeting Alistair Burt said:
"The experiences of those civilians, the ordinary men, women and children caught in the crossfire are the most painful to hear. The accounts I have heard today confirm our worst suspicions about the true scale of Qadhafi's atrocities in Misrata.
The accounts of the use of rape as a weapon of war, the use of women and children as human shields, snipers and indiscriminate attacks on civilians that I have heard today are a powerful and moving reminder of why the international community has acted, and is continuing to act to protect the Libyan people.
They also reinforce the importance of NATO operations which have recently succeeded in helping drive the Qadhafi regime from Misrata."
Published 24 May 2011