Foreign Office Minister meets Hong Kong Secretary for Home Affairs
Foreign Office Minister Jeremy Browne met the Hong Kong Secretary for Home Affairs, Tsang Tak-Sing to discuss the continuing good relations between the UK and the Special Administrative Region.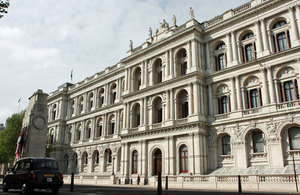 They explored how the UK and Hong Kong can work together to strengthen our cultural and sporting ties. The Minister also underlined UK support for Hong Kong's ongoing constitutional reform.
Mr Tsang is in London as head of the Hong Kong delegation for the Paralympic Games and met the Foreign Office Minister on his previous trip to Asia where the Minister also met and played table tennis with the Hong Kong Olympic and Paralympic squads.
The Hong Kong Government is looking to increase the region's elite sporting facilities through the construction of a 45,000-seater stadium and is currently building an indoor velodrome on the island. They are also planning to develop a Cultural District in West Kowloon, including an art museum, theatres, concert halls and other performance venues, to boost cultural and entertainment establishments in Hong Kong. We are supporting UK business involvement in these developments, building on our expertise in culture and the arts.
The UK and Hong Kong are currently working together on the development of international Renminbi (RMB) trading. A private-sector led London-Hong Kong International RMB Forum, announced by the Chancellor in January, met in Hong Kong in May and is set to meet again later this year in London. The Forum further deepens collaboration between the UK and Hong Kong in supporting the wider use of the RMB and aims to develop a common platform for international RMB business across the two global financial centres.
Published 29 August 2012