Foreign Office Minister meets Afghan Interior Minister
Discussion focussed on progress on the security and justice sector in Afghanistan when Foreign Office Minister Alistair Burt met Afghan Interior Minister General Bismellah Khan Mohammadi.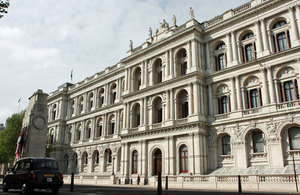 General Bismellah Khan Mohammadi thanked the Minister for the UK's contribution to the development of the Afghan security forces and justice sector.
General Bismellah Khan Mohammadi also met with UK Special Representative for Afghanistan and Pakistan Mark Sedwill. The meeting focussed on the security situation and the way ahead.
As part of Mohammadi's trip to the UK, he met with the Secretaries of State for Defence and International Development, as well as Home Office Ministers. He also visited the police Command and Control Centre in Lambeth and Belgravia Police Station. This gave him an insight into how departments and organisations such as these are run in the UK, with responsibilities similar to that of the Ministry of Interior.
The United Nations Assistance Mission to Afghanistan (UNAMA) report on detention facilities in Afghanistan was published on 10 October. Mohammadi acknowledged that the allegations of torture and mistreatment made in the report were serious. UNAMA has discussed the contents of the report with the Afghan authorities. The Afghan authorities are investigating the allegations made in the report. The UK monitors the well being of all detainees we have transferred to the Afghan authorities. The UK will continue to support the Afghan authorities to tackle mistreatment and establish processed that reduce the risk of abuse of detainees.
Mohammadi's visit comes as Afghanistan prepares for the next phase of security transition, the groundwork for which has been laid over the last few years through Afghan National Security Forces (ANSF) training and work to improve governance and development in Afghanistan. Developing a capable and accountable police force is essential for sustaining transition. Over 136,000 police have been recruited, and their capabilities continue to improve as a result of UK, EU and NATO efforts.
By 2015, the UK will no longer have troops in a combat role or in significant numbers in Afghanistan. But we will continue to have extensive diplomatic and development links with Afghanistan, and will continue to support the development of the Afghan security forces.
Published 14 October 2011