Foreign Office Minister marks 5000 days since last execution in Republic of Korea
Foreign Office Minister Jeremy Browne urged the Republic of Korea to establish a moratorium on the death penalty, with a view to moving towards full abolition.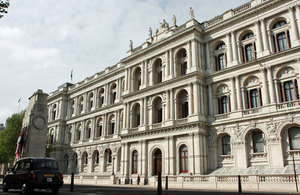 Speaking today the Foreign Office Minister said:
"I welcome the recent 8 September anniversary in the Republic of Korea, marking 5000 days since the last execution there. I also commend Houng-Oh Kim's bill calling for the abolition of the death penalty, which was introduced in the National Assembly to mark this occasion.
"It is the longstanding policy of the UK to oppose the death penalty as a matter of principle, because we consider that its use undermines human dignity. As I have said previously, there is no conclusive evidence of the death penalty's deterrent value, and crucially any miscarriage of justice leading to its imposition is irreversible and irreparable.
"There is now a clear international trend towards the global abolition of the death penalty. I urge the Republic of Korea to join the growing number of countries either establishing a moratorium on the death penalty, or moving forward to full abolition. I admire the huge progress that the Republic of Korea has made in recent decades. Abolition of the death penalty will be another step in that progress."
Published 12 September 2011