News story
Foreign Office Minister makes first visit to Barbados
Foreign Office Minister Mark Simmonds' visit to Barbados this week will focus on prosperity and co-operation in security.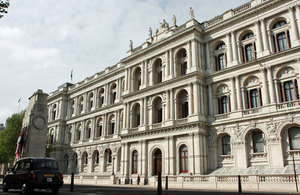 Speaking ahead of his visit, Mark Simmonds said:
Barbados and the UK have strong historical ties with a history which has helped us build an important and successful modern-day relationship. I am delighted to have the opportunity to visit Barbados following the recent elections and build on our partnership in areas such as prosperity and regional security. My visit illustrates the importance of Barbados, and the Caribbean as a whole, to the UK.
During his first visit to Barbados as Minister for the Caribbean, Mr Simmonds will call on the Prime Minister Freundel Stuart and the Minister for Foreign Affairs, Senator Maxine McClean, to discuss the strong links between the UK and Barbados. He will also have talks with Attorney General, Adriel Braithwaite, about security cooperation and talks on renewable energy with Minister of Energy, Senator Darcy Boyce.
England's FCO Minister makes 1st visit to Barbados
Further information
The British High Commissioner is holding a reception for the Minister at his residence BenMar, Erdiston Road, St Michael on Monday 15 April 6:30pm to 8:30pm with ministerial, official, consular and business guests.
Published 12 April 2013